Elma Demir, Researcher and Business Development Manager
The cluster network created in the scope of the SME Cluster Growth project has been advising and guiding start-ups and SMEs in the Essonne region to drive their growth. One key success of the cluster network has been the provision of visibility for start-up and SME managers, enabling them to participate actively in initiatives and programs designed to foster growth. The cluster network connects SMEs with experts from the industry who offer valuable insights and interventions tailored to the specific needs of SMEs. This collaborative approach ensures that the general programme is adapted to the realities of French SMEs, challenging roadmaps, and fostering sustainable business models.
The cluster network has established fruitful relationships with universities, particularly with the University of Evry and the University of Paris Saclay. These collaborations have enabled the creation of chairs, providing opportunities for joint development and management. The involvement of researchers contributes not only to their subject matter expertise but also to their ability to facilitate reflective thinking, guiding SME managers throughout their journey. Bridging the gap between universities and SMEs remains a challenge, and efforts are being made to make the university's offerings more accessible and relevant to SMEs' needs. Furthermore, the cluster network aims to facilitate closer ties between universities, engineering schools, and high schools to ensure practical engagement and mutual support between academia and the industry.
By participating in a council, SMEs gain the opportunity to interact with key regional stakeholders and develop a deeper understanding of their roles and responsibilities in the business development of the region. This engagement opens doors for collaboration, networking, and partnerships, allowing SMEs to tap into valuable resources, expertise, and support. Through the council, SMEs can foster stronger relationships with stakeholders, leading to enhanced cooperation, knowledge sharing, and joint initiatives that contribute to the growth and success of both the SMEs and the region as a whole.
Expanding the cluster network's horizons, discussions have emphasized the importance of benchmarking and observing SMEs' organizational practices in other European countries. By incorporating a reflective dimension, SME managers have gained insights into different operational models, employee profiles, management methods, and commercial dynamics. The cluster network recogniszes the need for focused visits to successful companies that have developed expertise and best practices within their respective fields. Additionally, segmenting activities and distinguishing between private market and public contract responses allows for targeted learning and knowledge sharing. By highlighting the common foundation of European cooperation, the cluster network cultivates an appetite for engaging in international collaboration and expands the understanding of engineering SMEs across borders.
The following experts  have have  been involved in the cluster network activities and educational programs:
Pierre-Yves le Daëron is a visionary co-founder of Stratex, a renowned consulting firm specializing in advising SMEs, mid-caps, and large groups. With his deep industry knowledge and strategic expertise, Pierre-Yves plays a pivotal role in guiding businesses towards success. His ability to analyze complex market dynamics and identify growth opportunities sets him apart as a trusted advisor for organizations seeking to navigate the ever-changing business landscape. Pierre-Yves brings a wealth of experience and a keen understanding of market trends, enabling him to develop tailored strategies that drive sustainable growth and foster long-term success. With his unwavering commitment to client satisfaction and a track record of delivering exceptional results, Pierre-Yves is a driving force behind the success of Stratex and the businesses it serves.
Jacques Robert Moulinet not only co-founded Stratex but also serves as a key figure responsible for the SME Manager Certificate at HEC. With his vast knowledge and insights, Jacques plays a pivotal role in shaping the next generation of business leaders. His dedication to enhancing management skills and fostering entrepreneurship within the SME sector is instrumental in driving innovation and growth. Jacques's expertise and passion for education make him a valuable asset to both Stratex and the academic community.
Antonia Heriot is a dynamic professional who leads the valorization of research at the UFR Sciences de l'Homme et de la Société Paris Saclay, University of Evry. Her role involves unlocking the potential of research outcomes and translating them into practical applications that benefit society. Antonia's work is instrumental in bridging the gap between academia and industry, ensuring that research findings make a tangible impact in the real world. Her commitment to knowledge transfer and innovation makes her a driving force in fostering collaboration and driving socio-economic development.
Amélia Tiscronia serves as the Operational Director of Scoping, a role that requires her to oversee the day-to-day operations of the organization. With her strong leadership skills and strategic mindset, Amélia ensures the smooth functioning of the company. Her expertise in managing complex projects, coordinating teams, and optimizing operational processes enables Scoping to deliver exceptional results. Amélia's commitment to operational excellence and her dedication to achieving organizational goals make her an invaluable member of the team.
Rodolphe Roy is the CEO of ATS, a position that highlights his visionary leadership and entrepreneurial spirit. As CEO, Rodolphe is responsible for steering the company's strategic direction, driving innovation, and fostering growth. His extensive industry experience and deep understanding of market dynamics allow him to navigate challenges and capitalize on opportunities. Rodolphe's commitment to excellence, customer-centric approach, and ability to inspire and motivate his team make him an influential leader in the industry.
Homeric de Sarthe is a highly respected BFR expert, renowned for his expertise in financial risk management. With a keen eye for detail and a focus on proactive risk assessment, Homeric offers invaluable guidance to organizations in effectively managing and mitigating financial risks. His track record of success, attention to detail, and client-centered approach make him a highly sought-after expert in the field. By leveraging his expertise, businesses can confidently navigate the challenges of today's dynamic financial landscape and achieve their strategic objectives while effectively managing risk.
Baptiste Vernier is a dynamic and innovative entrepreneur, serving as the Co-founder of Minimento. With a passion for leveraging technology to drive positive change, Baptiste has played a pivotal role in the development and growth of Minimento. His visionary leadership and strategic mindset have enabled the company to create innovative solutions that transform businesses and enhance operational efficiency. Baptiste's dedication to harnessing the power of data and analytics, combined with his expertise in software development, position him as a driving force behind Minimento's success. Through his leadership, Baptiste is revolutionizing the way businesses leverage technology to optimize their operations and drive sustainable growth.
Hubert de Saint Olive is a highly accomplished and visionary consultant and founder of Hadvise/Confidens. With a wealth of experience in strategic consulting and business advisory services, Hubert has successfully guided numerous organizations in achieving their goals and driving sustainable growth. His expertise spans across various industries, providing invaluable insights and innovative solutions to clients worldwide. Hubert founded his first company in the retail sector at the age of 19 and more recently created Nuances, an NGO that is currently building a new type of ethical social network. He teaches Quantitative Reasoning and Ethics & Leadership at École des Mines de Paris, SciencesPo Paris (Institute of Political Studies), Paris Dauphine, and Parsons Paris. Known for his sharp business acumen and deep understanding of market dynamics, Hubert possesses a remarkable ability to identify untapped opportunities and develop effective strategies that maximize success. Through his personalized approach, he fosters strong partnerships with clients, working collaboratively to overcome challenges and unlock their full potential.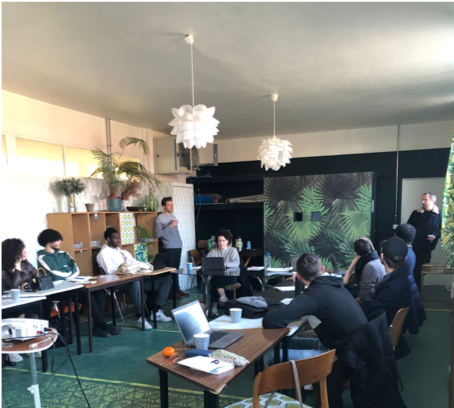 Lucas Quinonero is a dynamic and visionary leader serving as the CEO of Mobeelity, a cutting-edge mobility solutions company. With his strategic mindset and passion for innovation, Lucas drives the company's mission to revolutionize urban transportation and make cities more accessible and sustainable. His extensive expertise in the mobility sector, coupled with his entrepreneurial spirit, enables him to navigate the complexities of the industry and deliver impactful solutions that enhance the way people move and commute. Lucas's leadership inspires his team to push boundaries and continuously develop innovative technologies and services that address the evolving needs of urban mobility. Through his guidance, Mobeelity is poised to shape the future of transportation and create smarter, more connected cities for everyone.
Todd Davey is an esteemed Associate Professor of Entrepreneurship at the Institut Mines-Télécom Business School (IMTBS) in Paris. With an extensive academic background, Todd is also a visiting researcher at renowned institutions such as Imperial College in the United Kingdom, the Technical University of Vienna in Austria, and the University of Adelaide in Australia, focusing on the subjects of entrepreneurship and innovation. Having previously served as a Senior Manager with Deloitte Australia's Technology Commercialisation Group, as well as being a vital member of an Australian start-up's executive team during its rapid growth in the 2000s, Todd brings a wealth of industry experience to academia. Todd's research endeavors have included being the Project Director of a comprehensive study commissioned by the European Commission, examining cooperation between European universities and businesses. He is the author of the book 'Entrepreneurship at Universities' and the co-editor of the Future Universities Thoughtbook. Additionally, Todd has developed TechAdvance™, an innovative tool for technology evaluation. With a Bachelor's degree in Marketing and Management from the University of South Australia, a master's degree in International Management from Münster University of Applied Sciences in Germany, and a Ph.D. in the field of Entrepreneurship at Universities from VU Amsterdam in the Netherlands, Todd brings a diverse and well-rounded expertise to his academic role at IMTBS.
Thierry Isckia is a highly respected professor specializing in the management of innovation and information technologies in business ecosystems at IMTBS. With a deep understanding of the dynamic intersection between technology and business, Thierry brings a wealth of knowledge and expertise to his role. Through his research and teachings, he sheds light on the crucial role that innovation and information technologies play in driving the success and growth of modern organizations. Thierry's insights and guidance enable students and professionals to navigate the complexities of managing innovation in today's fast-paced and interconnected business ecosystems. His passion for fostering a culture of innovation and his commitment to empowering individuals and businesses make him an invaluable asset to the academic community.
Capucine Epagneau is a dedicated and visionary entrepreneur, serving as the Co-founder and CEO of Petit Côté. With her strong leadership skills and unwavering passion, Capucine has successfully established Petit Côté as a prominent player in the industry. Her innovative thinking and commitment to sustainability have shaped the company's mission to provide eco-friendly and ethically sourced products. Through her strategic guidance, Capucine has fostered partnerships with local artisans and suppliers, ensuring the highest quality products that align with Petit Côté's values. Her entrepreneurial drive and dedication to making a positive impact have positioned Petit Côté as a trusted brand that offers customers a conscious and responsible shopping experience.
Marion-Emi Alix is a dedicated professional serving as the Sustainable Accelerator Manager at Accélérateur ESS and Lecturer at HEC. With her expertise in sustainable entrepreneurship, Marion-Emi plays a vital role in fostering the growth and success of social and environmental impact-driven startups. Through her work at Accélérateur ESS, she provides valuable guidance and support to entrepreneurs, helping them develop innovative and sustainable business models. As a lecturer at HEC, Marion-Emi shares her knowledge and passion for sustainable entrepreneurship with the next generation of business leaders, inspiring them to create positive change in the world. Her commitment to sustainability and her ability to empower and educate others make her a valuable asset to both Accélérateur ESS and HEC, driving the transition towards a more sustainable and inclusive economy.
Julien Héron is a dynamic and accomplished leader, serving as the CEO of Ab Initio. With his extensive experience and expertise in the technology industry, Julien drives the company's mission to deliver innovative software solutions that empower businesses. Under his leadership, Ab Initio has established itself as a trusted provider of cutting-edge technologies, helping organizations optimize their operations and achieve their digital transformation goals. Julien's strategic vision and passion for leveraging technology to drive business success have propelled Ab Initio to new heights, earning the company a reputation for excellence and customer satisfaction. His strong commitment to fostering a collaborative and customer-centric approach ensures that Ab Initio remains at the forefront of the industry, continuously evolving and adapting to meet the evolving needs of its clients.
Adeline Leroy Sherman and Monica Holly Collins are the visionary Co-founders of Unicorn Institute, a leading institution that operates globally within the realm of applied research and university collaboration. With a deep understanding of university-enterprise collaboration, university engagement, and entrepreneurship at universities, Adeline and Monica have been instrumental in shaping Unicorn Institute's mission to support decision-makers and change agents in solving complex global and local challenges. Their expertise extends to regional innovation systems and their focus on the regenerative economy, fostering innovative ecosystems and entrepreneurial mindsets. Adeline and Monica's leadership at Unicorn Institute encompasses executing pioneering research, developing innovative training programs, and providing evidence-driven consulting services to universities, innovative businesses, and local governments. Their profound dedication has resulted in the creation of holistic solutions, the development of highly skilled professionals, and the dissemination of practical tools, methods, knowledge, and insights. Notably, they prioritize collaboration with universities, recognizing the immense value that research brings to their work.