By Laura O'Donovan
The MTU Extended Campus hosted its SME Cluster Growth National event on May 19th, 2023, as a free breakfast networking opportunity for MTU staff and SME representatives to meet each other. A boisterous chatter could be heard from 7.20 am onwards until 10 am on a beautiful day in the Bishopstown campus of MTU.
Invitations were sent to all internal units/departments of MTU to come and meet SME representatives in an informal setting over breakfast. Contact was made with over 200 companies in the region and a very positive response was received. Representatives from over 45 companies attended the event, with several the SME representatives from the SME Cluster Growth project in attendance. Several support agencies such as Cork Education and Training Board, the Intreo Office (the Public Employment Service and the Local Enterprise Office were present to provide information and advice to everyone on the day.
Name badges were printed for each attendee, internal and external, which facilitated excellent networking. A competition for a donation to charity was underway during the event, all attendees had to do was drop their business card into a box which facilitated more sharing of information. The Extended Campus staff were present and active during the event to facilitate further connections with industry and relevant MTU staff or peers in similar domains.
Stands with key personnel from the following units were available for connections, advice, and information: 
The Nimbus Technology Gateway which is one of 15 Enterprise Ireland Technology Gateways, providing businesses with innovative software and hardware technical research and development capabilities.
The department of Computer Science, Management and Enterprise, Accounting and Information Systems, Organisation and Professional Development, Mechanical, Biomedical and Manufacturing Engineering, Biological Sciences, Artificial Intelligence Systems and Innovation and Enterprise.
The Faculty of Engineering and Science.
iEd Hub, an educational consortium creating an innovative and agile platform to prepare next-generation graduates to excel in industry.
Ireland Knowledge Centre for Climate, Carbon and Community Action (IKC3) offer a range of flexible learning pathways to support and enable industry, enterprise and the community transition to a carbon neutral society.
The Extended Campus which facilitates connections between external organisations and MTU.
Centre for Advanced Manufacturing Management Systems (CAMMS) that offers full-time, part-time and specialist courses in Art, Business and Humanities, Computing and Information Technology, Engineering, Management, and Information Systems.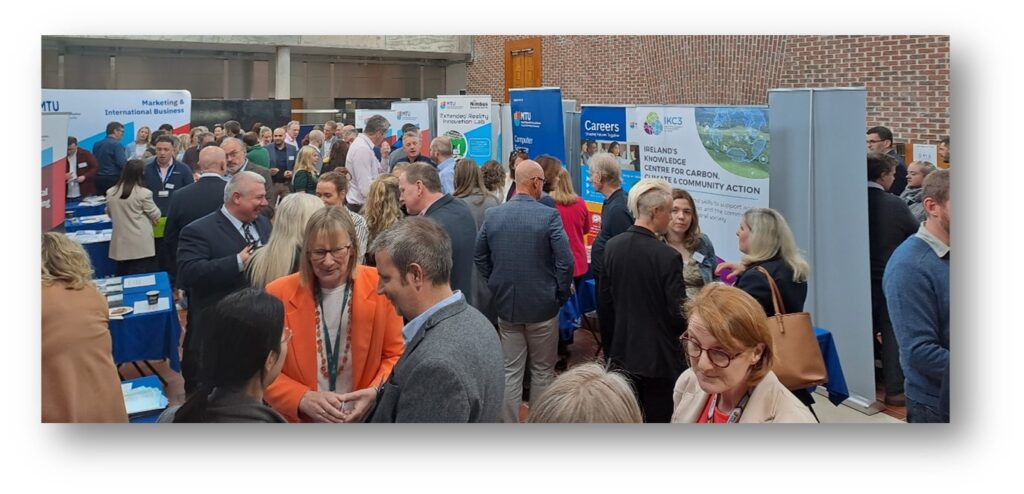 Fig 1 and 2 – The main hall during the SME Cluster Growth project National event.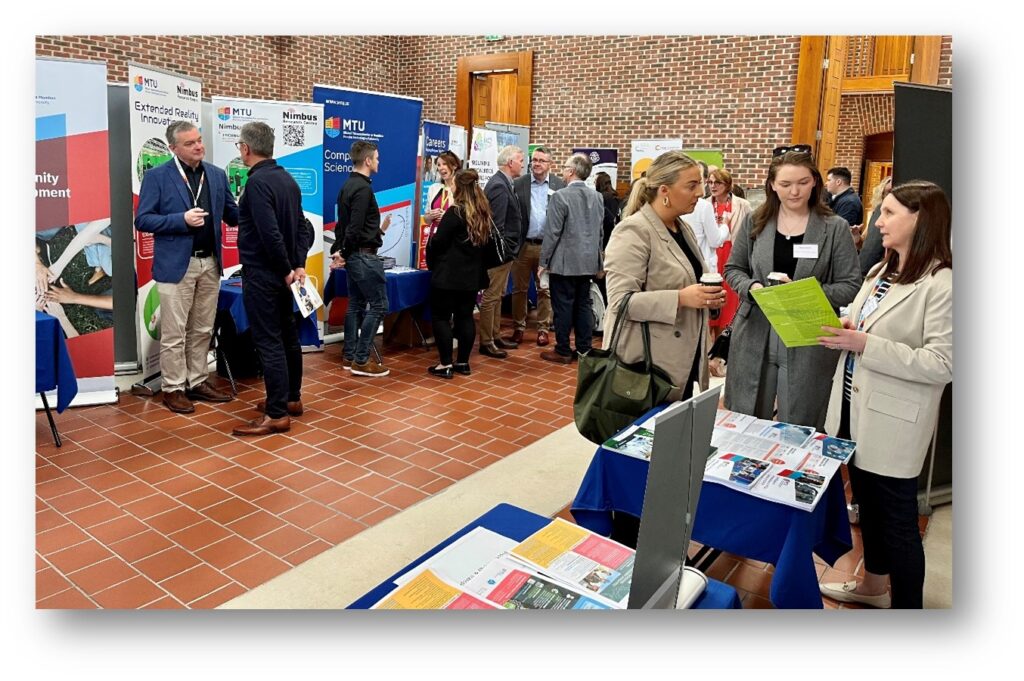 A local SME owner, Claire Keane was supported to showcase her wares from Second Street chocolateries. Every attendee received a small packet of Claire's delicious chocolates for a Friday lunch treat.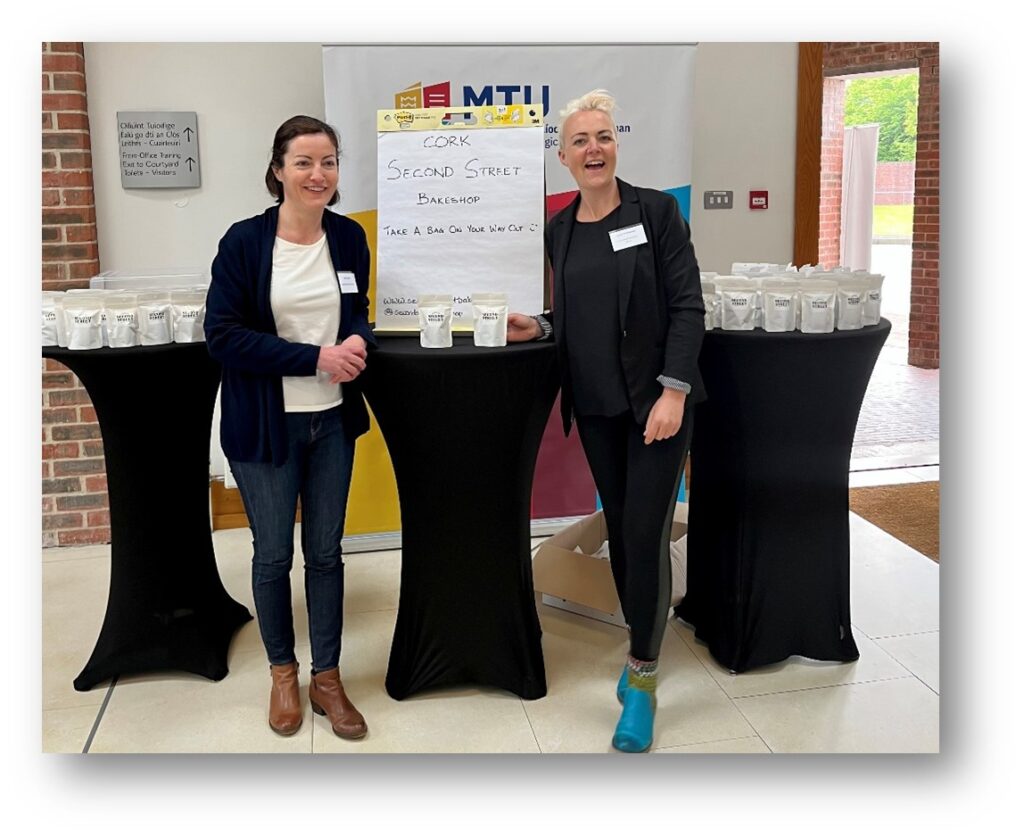 Fig 3 – Claire Keane of Second Street Chocolates and Laura O'Donovan of MTU Extended Campus.
A presentation of Second Street chocolates was made to Fred Graepel's to say thank you for generously supporting a site visit and exchange of expertise for the last of the SME Cluster Growth Training Programme days with MTU.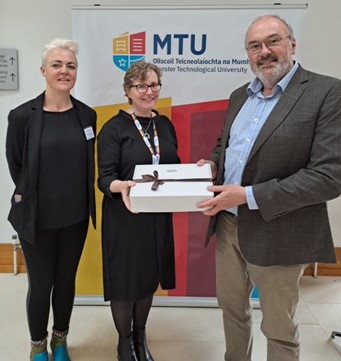 Fig 4 – Laura O'Donovan, Research in the Extended Campus, Prof Irene Sheridan and Fred Graepel, CEO of Graepel Perforator and Weavers Ltd.
Professor Irene Sheridan spoke to the crowd of SME representatives, MTU staff and local industry support agencies about the importance of collaboration, connecting with each other. She spoke of the need to create mutually beneficial relationships between the expertise within MTU and the expertise externally held in industry, public sector organisations, alumni and elsewhere. These relationships benefit MTU, our students, our economy and society.
She spoke at length about the SME Cluster Growth project, the struggles we experienced, the many positive outcomes and impacts already seen within MTU and the SMEs participating. The SME Student Consultancy projects have been a huge success, garnering great enthusiasm from dedicated students and really positively received by the SMEs.
The role of the Extended Campus is to facilitate connections and relationship building between MTU and the region, and this event was an excellent example of how many connections have already been made and are being built for the future. She thanked everyone for coming to the event, and so early, as attendees began arriving at 7.15 am, and wished everyone in the room an excellent summer ahead. 
At 9 am Dr John Hobbs delivered an excellent workshop on Understanding Clusters to a packed room of attendees. Dr John Hobbs is Director of the V-LINC Cluster Research Group, at MTU, which has conducted cluster mapping projects with over 50 industry clusters in 20 countries worldwide. He is a cluster practitioner with direct involvement in the establishment of several clusters in Ireland and member of the National Steering Group on Ireland's Cluster Policy. The workshop was very positively received and established further connections during discussion afterwards.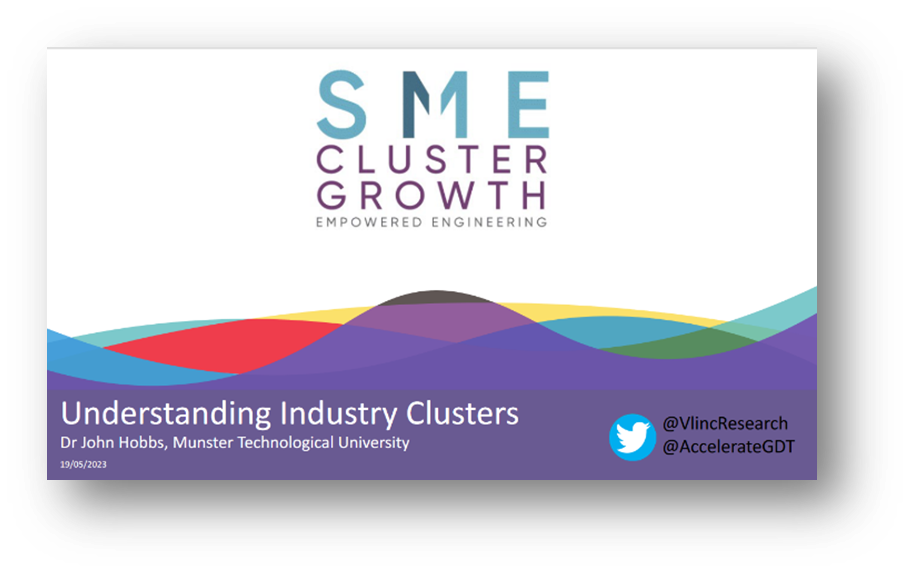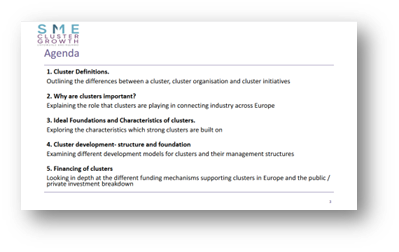 Fig 6 and 7 – Slides from Dr John Hobb's workshop on Understanding Clusters.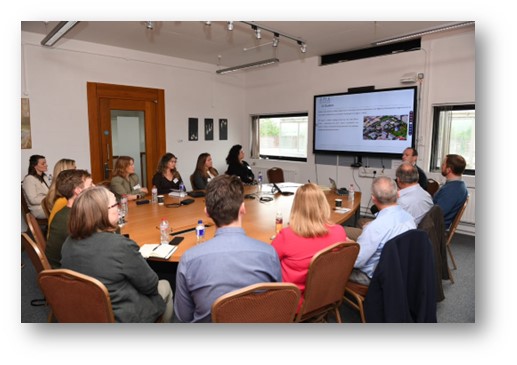 Fig 8 and 9 – Dr John Hobbs presenting a workshop on Understanding Clusters.